De Françoise à Alice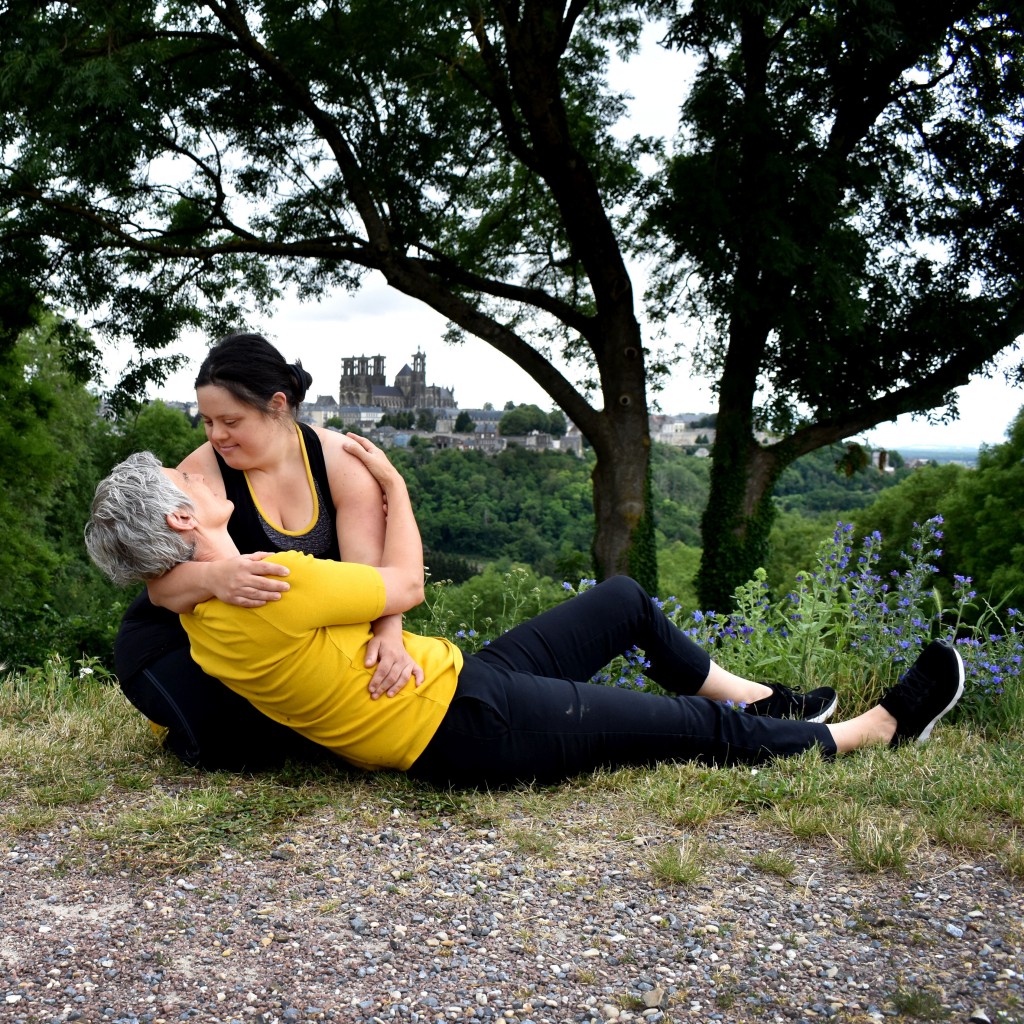 Premiere on november 2nd 2020
Les Quinconces - L'espal, scène nationale du Mans
---
De Françoise à Alice is the choreographic portrait of two dancers, conceived from the perspective of the different relationships that connect them. The performers are two women, one so-called able-bodied and the other with Down's syndrome, mother and daughter. The duo will touch on the complexity and web of ties they can sustain, as well as on the divergencies that help create their complementarity, as much in human terms as in their relation to dance.
I met them in 2015, during a workshop I led at ART21, an association that they created in Laon, Hauts-de-France. ART21 seeks to promote the practice of amateur dance by a mixed group of people, some with mental health issues and others without. This type of project is still quite rare in France, and it's against this backdrop that they had invited me. We later continued working together in the form of workshops with the ART21 dancers. On this occasion, we had a lot of discussion about the dance experience of Françoise and Alice, which had at first separated them but then brought them together, and on their everyday commitment to mention the disability without stigmatizing it. The desire to form this duo was born from the desire to delve deeper into these issues.
One day, Françoise wrote the following in one of her messages to me: "Even if this project leads us to unknown and intimidating places, we think it can be a strength to be able to demonstrate, through this portrait, what we strongly stand up for in our everyday life. It's something obvious and essential for us." These words sum up both the adventure that this special project represents and the basis of my overall approach. And Alice added, "I want to do it so people know who we are."
---
Art21, Association Regard Trisomie 21, is based in Laon in Les Hauts de France and develops lots of artistic activities for for a mixed public, people with and without disabilities.. It works with L'échangeur, CDCN Hauts de France on the organization of dance workshops. In 2015, Mickaël Phelippeau was invited for the first time to take part to a workshop. He did it one more time in 2017.
a choreographic piece by Mickaël Phelippeau
performance Alice Davazoglou & Françoise Davazoglou
dramaturgical collaboration Anne Kersting
light design Abigail Fowler
sound design Laurent Dumoulin
costumes design Karelle Durand
production, distribution, administration Fabrik Cassiopée – Manon Crochemore, Manon Joly and Isabelle Morel
---
executive production bi-p association
coproduction L'échangeur, CDCN Hauts de France (FR), Atelier de Paris – CDCN (FR), Espace 1789 – scène conventionnée danse de Saint Ouen (FR), Les Quinconces L'espal – Scène nationale du Mans (FR), Scène nationale d'Aubusson (FR), Entresort/Centre national pour la création adaptée (FR), La Filature - scène nationale de Mulhouse (FR)
with the support of La Pratique, atelier de fabrique artistique - Vatan (FR)
bi-p is supported by DRAC Centre-Val de Loire – Ministère de la Culture, au titre du conventionnement, by Région Centre-Val de Loire au titre du conventionnement and by Institut français for its projets abroad.
---
photo credits Mickaël Phelippeau